If you are eager to see a ferret in person and you don't know anyone with ferrets, the best place to check them is a ferret event. The most common event is a ferret show and almost every country has at least one of them. Ferret shows are a place filled with ferrets and ferret owners. There you can see every color, type, age, and gender there is so it is a perfect place to spend a day surrounded by ferrets.
Here you can check out ferret shows Friendly Ferret was a part of as a sponsor and ferret shows Anja was a judge. Also, you can learn more about the entire organization, regulations, rules for judging, and other important information. If you want your ferret to participate, here you can learn about how to prepare your ferret for a ferret show too.
Future Ferret Shows
Due to the COVID situation, ferret shows in most of 2020, and the entire 2021 are canceled so there aren't any ferret shows in the near future. If it changes, we will post the list of future shows here. Also, if you want to contact Anja and Friendly Ferret to be a part of a show, as a sponsor or a judge, feel free to send us an email at support@friendlyferret.com. Every ferret show we participate in is shared on our website because we love to share cute ferret pictures from all over the world!
Beoley, United Kingdom 2022.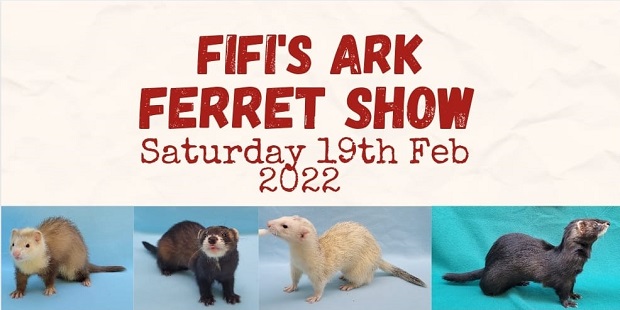 Fifi's Ark Ferret Show is a ferret show located in Beoley, UK. The date for this show is the 19th of February 2022, so if you are in need of a bunch of adorable ferrets and you are in UK, check out this ferret show in February!
Past Ferret Shows
Ottawa, Canada 2021.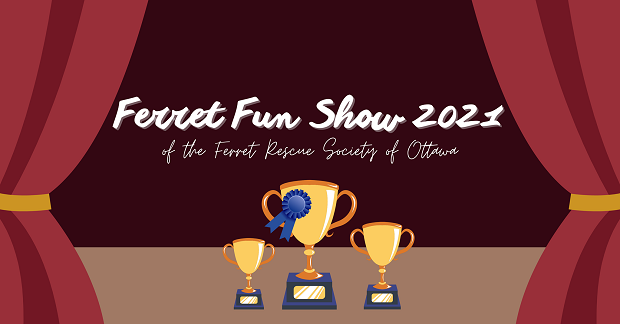 This is the first virtual ferret show we had the luck to be a part of as a sponsor! Friendly Ferret was a sponsor for one of the prizes among other very famous ferret brands. This show had many different categories and even more adorable ferrets! You can see the contestants and winners on this Facebook link of the Ferret Rescue Society of Ottawa.
Prague, Czech Republic 2021.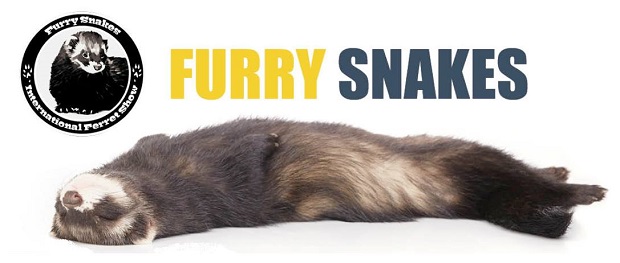 The next show where Friendly Ferret will participate only as a sponsor due to the COVID-19 situation will be held in Prague, Czech Republic on the 30th of October 2021. The location of the ferret show is Bří. Venclíků 1140, 198 00 Praha 14-Černý Most. If you can, feel free to visit the event on Facebook to see many beautiful ferrets.
Tallinn, Estonia 2020.
The last show Anja was a part of as a judge was in Tallinn, Estonia in February 2020. It was just before the pandemic and she is grateful to have had this great experience before it. Check out the pictures of the show in the Ferret Winter Wonderland album.
Odense, Denmark 2019.
The next ferret show Anja took part in was in Odense, Denmark. That was the first time she appeared as a judge and it was a thrilling experience. Check out the post about Odense Ferret Show to see how many ferrets were involved.
Budapest, Hungary 2019.
As you can see, Budapest became close to our hearts so we came back in 2019. Just as the year before, Anja was a writer and loved every minute of the job. You can read more about this event and check out cute ferrets in our post about Budapest Ferret Show 2019.
Celje, Slovenia 2018.
The second ferret show we took part in was in Celje, Slovenia. Friendly Ferret was only visiting, but that doesn't mean we didn't take numerous ferret photos. All of them you can see in our post about Celje Ferret Show.
Budapest, Hungary 2018.
In 2018, we came back to Budapest, but not as a sponsor. Anja wanted to see the show from another point of view so she asked the hosts to become a writer. With that, she managed to see every ferret from the judging table and it was one of the best experiences so far. If you are eager to find out more about this event, check our Friendly Ferret Budapest 2018. post.
Budapest, Hungary 2017.
The first time Friendly Ferret was a part of a ferret show was in 2017 on International Ferret Show in Budapest. We were a sponsor for a few smaller and a few bigger prizes. If you are interested in reading all about that event, visit this Friendly Ferret post.