We just love making giveaways because it is a great excuse to look at so many adorable ferret photos!
Don't get surprised if we hold giveaways once a month or every two weeks because that is the best way to share the ferret love and the ferret community!
Here you can see how we celebrated the number of our followers on Instagram, Halloween, and many other events with big giveaways last few years and what is the trending giveaway today!
Active Giveaway
Love My Ferret Giveaway Until 28.2.2021.
We are still in the month of love so we want to see as many ferrets as possible. Share a favorite picture of your ferrets with us!
Follow Friendly Ferret Instagram or Facebook Fan Page
Post a favorite photo of your ferret/ferrets on your account with the #lovemyfreindlyferret and tag our Instagram or Facebook Fan Page
Comment with an ♥ on this post so we don't miss your photo
The winner is a picture with the most likes on Instagram and Facebook account! The winner will get a LIFE IS BETTER Hoodie and DOOK DOOK Lanyard so don't forget to share it with your ferret community 😉
The last day of February will be the last day of the giveaway too!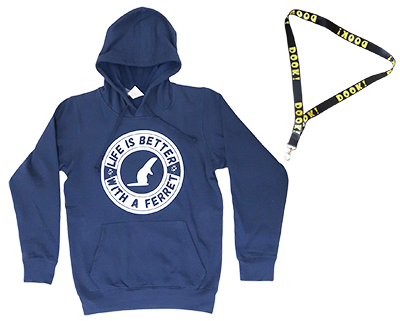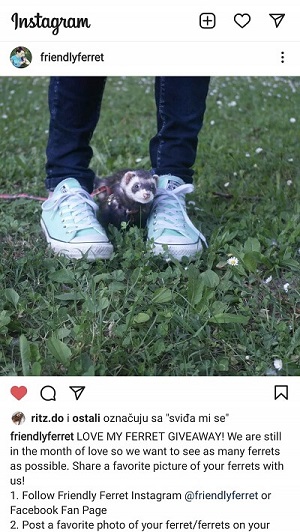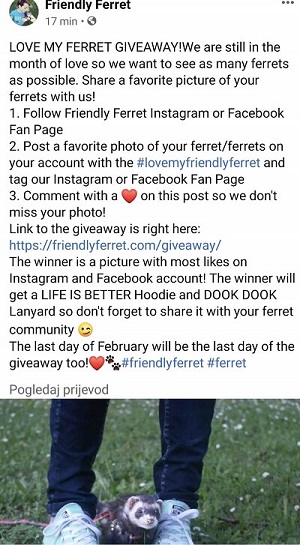 Completed Giveaways
Valentine's Day, 14.2.2021.
The only thing you have to do to enter this Valentine giveaway is to subscribe to the Friendly Ferret newsletter by the 14th of February. Make sure you check your email for subscription confirmation. I will randomly pick one lucky ferret lover who will get this ferretastick Friendly Ferret Love Package! The package has LOVE hoodie, LOVE lanyards, Friendly Ferret badges, and LOVE t-shirt. I will notify the winner of the winning email and share the results on social media and here!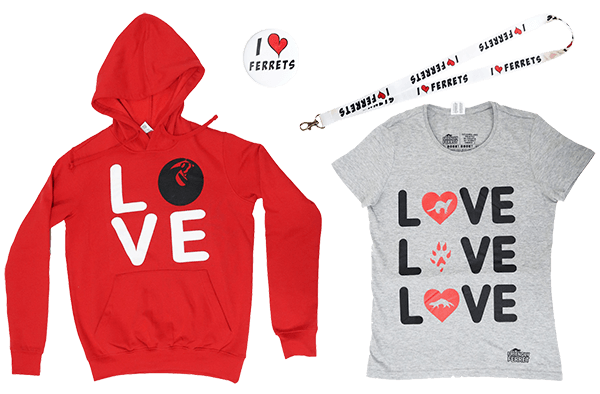 FERRET LOVE PACKAGE WORTH $50
Ferret LOVE Hoodie
Ferret LOVE T-shirt
I Love Ferrets Badge
I Love Ferrets Lanyard
THIS GIVEAWAY HAS FINISHED ON 14.2.2021.
WINNER IS: In Process