We just love making giveaways because it is a great excuse to look at so many adorable ferret photos!
Don't get surprised if we hold giveaways once a month or every two weeks because that is the best way to share the ferret love and the ferret community!
Here you can see how we celebrated the number of our followers on Instagram, Halloween, and many other events with big giveaways last few years and what is the trending giveaway today!
Active Giveaway
There are no active Friendly Ferret giveaways at the moment, but there will be one soon!
The best way to find out the exact date of our new Giveaway is to subscribe to our newsletter and follow us on our social profiles!
Completed Giveaways
Blue Monday Giveaway Until 31.01.2022.
This Blue Monday giveaway is our best weapon in defeating the most depressive Monday of 2022!
We from Friendly Ferret want to make you happy and the best way to do that is to make another giveaway!
This one may be all in blue, but that is the only thing in common with Blue Monday!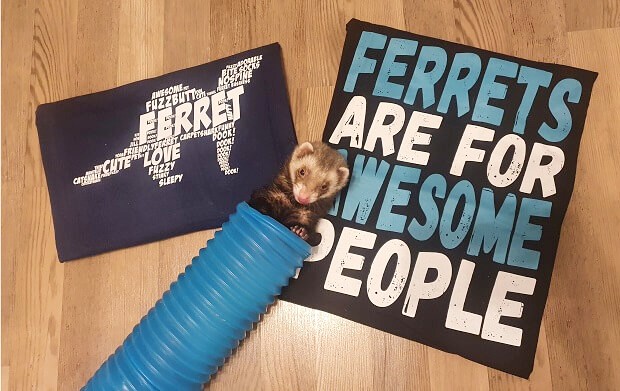 BLUE MONDAY GIVEAWAY
Ferretastick Blue Tunnel For Your Ferret
Ferrets Are For Awesome People T-shirt For You
Ferret Long Sleeve Shirt For You
Surprise Box Winter Giveaway Until 01.12.2021.
This November we decided to give away one particular box filled with presents for both, you and your ferret! Yoda has made the inspection and everything seems in order including the size of the box that can fit at least one ferret!
The giveaway is active until the first of December because we would love for you to get this box around Christmas!
The rules are simple, use the button below, enter your email and wait for the news!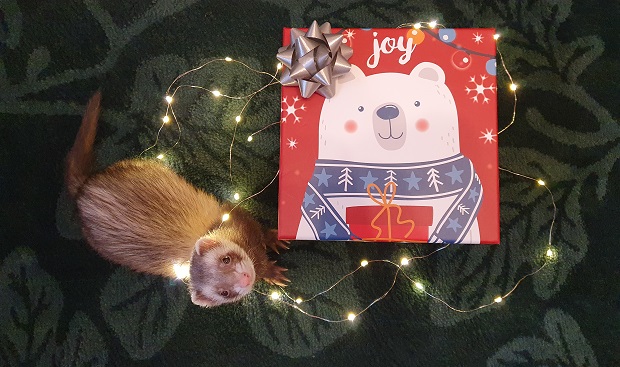 SURPRISE WINTER GIVEAWAY BOX
Secret presents for your ferret
Secret presents for you
Made by Friendly Ferret & Others
Yoda's Favorite Toy Giveaway Until 24.10.2021.
This toy is the only toy Yoda likes to play with since the moment we got it. It is a snake with bells and feathers that brings my ferret hours of fun. It is so precious, its place is behind the cage thanks to Yoda's stashing abilities. Due to that, we want to share this love with another ferret owner so we made a giveaway! Don't worry, there is a t-shirt for humans too! Not just any, it is the most popular t-shirt on our offer, Ferrets – because people stink!
So, what do you have to do to enter this giveaway? Simply use this button to participate and write your email!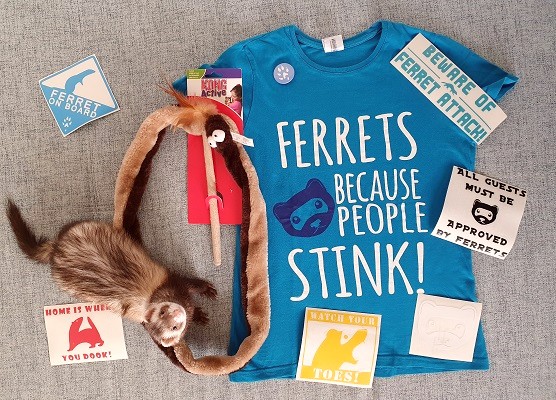 YODA'S FAVORITE TOY GIVEAWAY PACK
Brand New Snake Teaser From Kong
Ferrets Because People Stink T-shirt
5 x Stickers In Different Colors Of Your Choice
Ferret Paw Badge
Love My Ferret Giveaway Until 28.2.2021.
We are still in the month of love so we want to see as many ferrets as possible. Share a favorite picture of your ferrets with us!
Follow Friendly Ferret Instagram or Facebook Fan Page
Post a favorite photo of your ferret/ferrets on your account with the #lovemyfreindlyferret and tag our Instagram or Facebook Fan Page
Comment with an ♥ on this post so we don't miss your photo
The winner is a picture with the most likes on Instagram and Facebook accounts! The winner will get a LIFE IS BETTER Hoodie and DOOK DOOK Lanyard so don't forget to share it with your ferret community 😉
The last day of February will be the last day of the giveaway too!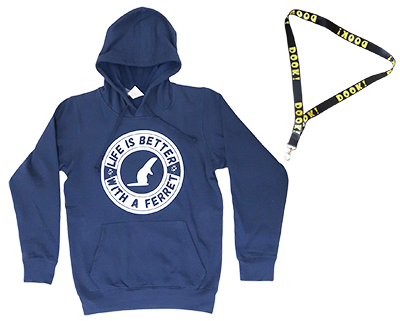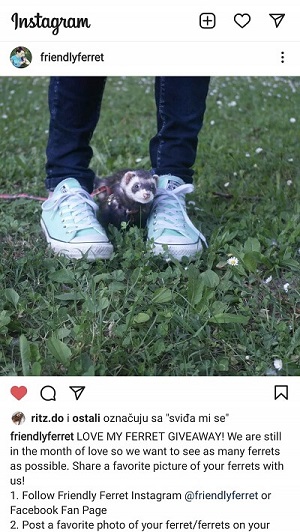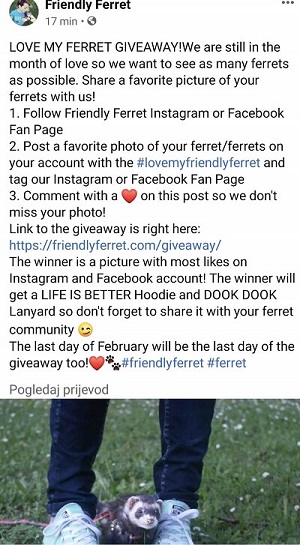 THIS GIVEAWAY HAS FINISHED ON 28.2.2021.
Valentine's Day, 14.2.2021.
The only thing you have to do to enter this Valentine giveaway is to subscribe to the Friendly Ferret newsletter by the 14th of February. Make sure you check your email for subscription confirmation. I will randomly pick one lucky ferret lover who will get this ferretastick Friendly Ferret Love Package! The package has LOVE hoodie, LOVE lanyards, Friendly Ferret badges, and LOVE t-shirt. I will notify the winner of the winning email and share the results on social media and here!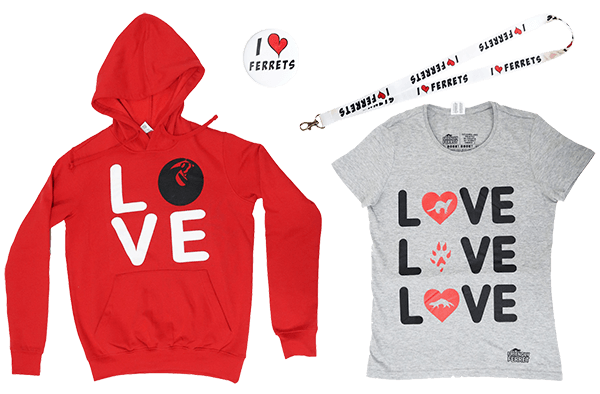 FERRET LOVE PACKAGE WORTH $50
Ferret LOVE Hoodie
Ferret LOVE T-shirt
I Love Ferrets Badge
I Love Ferrets Lanyard
THIS GIVEAWAY HAS FINISHED ON 14.2.2021.