Friendly Ferret started almost 10 years ago as a personal blog. It was a place where Anja could gather information about ferrets because there weren't that many out there. With one thing in mind, she set on an adventure with her first ferret Frida. There she wrote her experience with common ferret situations, from playing, traveling to socialization and nutrition. She also covered general ferret information like their legality, history, and types.
Who Is Behind Friendly Ferret?
The main ferret enthusiast behind Friendly Ferret is Anja. Her first ferret Frida was the reason why she started the blog. But, she doesn't do everything alone. Since Friendly Ferret tends to gather the best ferret information, she asked a few ferret experts for help. Maja is an experienced owner for almost two decades and a respectable ferret breeder. Tijana is also a vet student with a goal to specialize in knowledge about exotic animals held as pets. Since ferrets are treated like exotic pets in most countries, she is gathering information and knowledge about them through her entire education.

Anja Delić
EDUCATION: Master Of Engineering in Civil Engineering – Polytechnicum Zagrabiense
EXPERTISE: Ferret Care, Ferret Training, Ferret Judging, Digital Marketing
EXPERIENCE: More Than 10 Years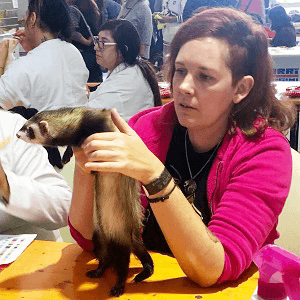 Maja Čonč
EDUCATION: Finishing study at the Veterinary Faculty of Ljubljana
EXPERTISE: Ferret Diseases & Health Care, Ferret Breeding, Ferret Judging
EXPERIENCE: Almost Twenty Years

What Is Friendly Ferret All About?
Our first goal is to gather the best and correct information about ferrets so every ferret owner knows how to treat this amazing pet. The second goal is to cover every part of the ferret's life with ferret products. We are producing different hammocks. harnesses, toys, and many other things, all of them approved by our own ferrets. The third goal is more focused on us people. With Friendly Ferret products for people, you can easily show to the entire world your love for ferrets. You can easily do that with Friendly Ferret shirts, mugs, lanyards, and many other products.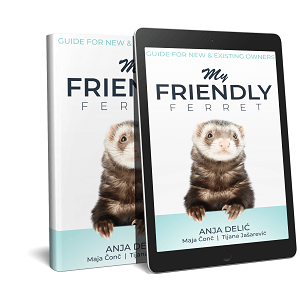 FERRET EDUCATION
The eBook is made in collaboration with few ferret experts for the best ferret information!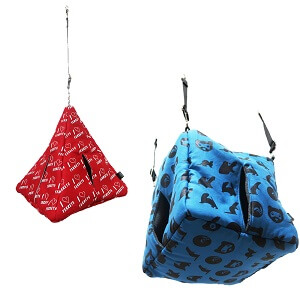 FERRET PRODUCTS
Each Friendly Ferret product is made for ferrets and approved by ferrets!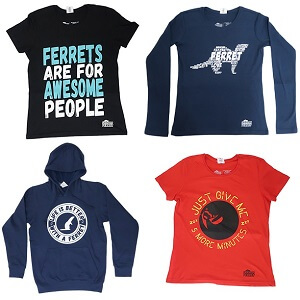 FERRET LOVERS
Lanyards, hoodies, t-shirts, and many other products are made for true ferret lovers!
We are preparing new limited series of products for ferrets and humans.
If you want to know when we will open our webshop subscribe now!
What Are Our Future Goals?
The most important goal we are working on at the moment with other ferret experts is writing an eBook. That eBook will have the most important information about every aspect of ferret life that is useful to you no matter if you are a beginner or experienced ferret owner. In this book, you can learn about ferret training, ferret-proofing, ferret socialization, diet, and many more topics. We will fill this book with charts, drawings, pictures, and other high-quality information about ferrets! Our goal is to spread the right information about ferrets and improve the quality of their life even more!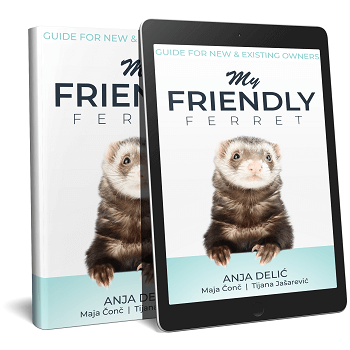 We plan to release the book in about 8 months for around 30 dollars price. For the first 100 copies, I will give a 50% off because I want to hear your opinions on the book. If you want to be one of the 100 proud owners make sure you subscribe to my newsletter because we will share the early release only through the newsletter!
Every subscriber will get an email about the early release of the book!
Friendly Ferret Giveaway: Win Prizes For You And Your Ferret
One of the most interesting ways to expand the ferret community is through giveaways. That is why we have giveaways almost every month and most of them are made so we all can enjoy pictures of your beautiful ferrets all over the world. Here you can see a few of our biggest giveaways we held and current ones.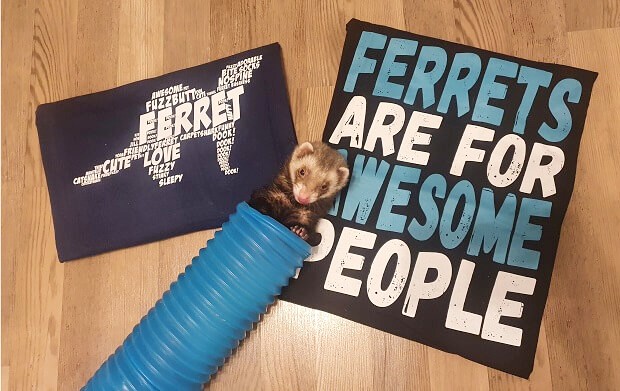 BLUE MONDAY GIVEAWAY
Ferretastick Blue Tunnel For Your Ferret
Ferrets Are For Awesome People T-shirt For You
Ferret Long Sleeve Shirt For You
Join this lovely giveaway today!
Friendly Ferret Blog
If you are interested in a particular ferret topic, you can swing by our blog and see if we made a post about that. You can be sure that our posts are diverse, we write about ferret training, socialization, and diet, but also about ferret shows, events, and adventures with ferrets. So, visit our Friendly Ferret blog and start exploring!
Rescue Center
Not all ferrets are lucky enough to have a forever home. That is why there are so many beautiful people who have shelters and rescue centers. If you want to adopt a ferret check our list of rescue centers and you might find the one that is near you. Also if you know a ferret shelter and you want to share their information, contact us and we will put it on our list or ferret shelters.
Ferret Events
Friendly Ferret was a part of many ferret shows in Hungary, Slovenia, Denmark, Estonia, and the Czech Republic. We were sponsoring and judging on those ferret shows and those were the best ferret adventures we had. If you want to check out each and every ferret show, visit our Ferret Events page.
What Do Our Customers Say About Us?
We love getting reactions to our products and that is why we love when you share your testimonials with us! Check out what people say about our ferret products and products made for ferret enthusiasts like ourselves!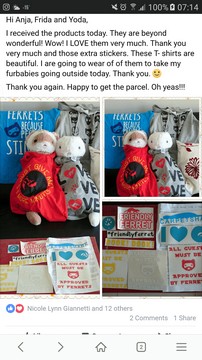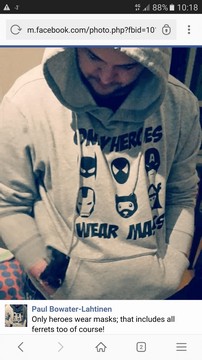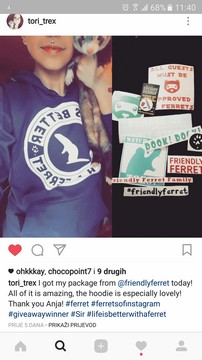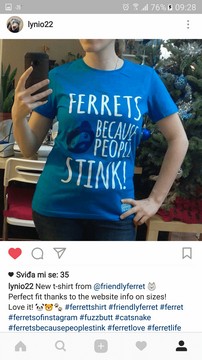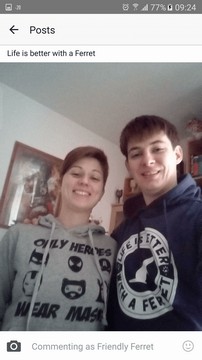 Connect With Friendly Ferret