I have been living with ferrets and for ferrets since 2001, which is … almost twenty years. During this time, I gained quite a bit of knowledge – both theoretical and practical experience. But after all this time, I still use the opportunity to learn about ferrets, if only I get the chance.
I am the founder and president of the Slovenian Ferrets Association, which, since 2008, deals mainly with abandoned ferrets, raises awareness among ferret owners, and promotes responsible ownership and breeding of ferrets. As an association with the status of public interest, we participate in the design and amendment of legislation in the field of animal protection and also help care for discarded and homeless ferrets.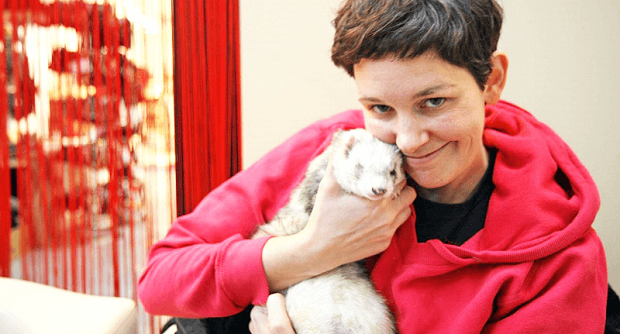 I am finishing my study of veterinary medicine at the Veterinary Faculty of Ljubljana. For many years – when time allowed – I have been volunteering at the Clinic for Birds, Small Mammals, and Reptiles at our faculty as a student/vet-tech. Together with the clinic staff, I am involved in researches on Influenza, Coronavirus, and Leptospira infections in ferrets. I regularly attend veterinary conferences in Slovenia and abroad, where I also actively participate as author and co-author of scientific contributions, especially on diseases and health care of ferrets.
As I am interested in everything connected with ferrets, I also have a great interest in judging at ferret shows. I have been judging at international ferret exhibitions in Hungary, Italy, Finland, Denmark, and Estonia.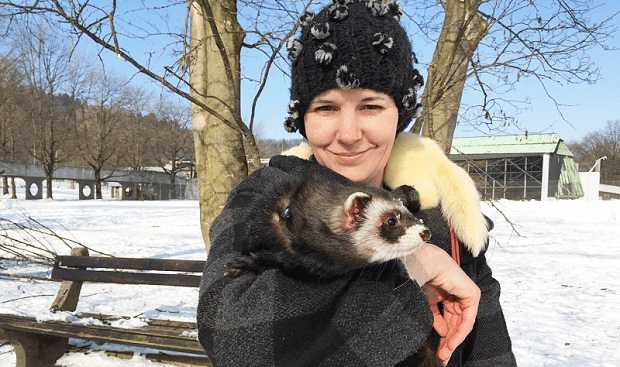 As mentioned, in all these years I have owned and co-lived with many ferrets. For some of them, I provided foster-home after they were abandoned by their previous owners, but many of them stayed. Especially those with different illnesses and disabilities, or those who were more challenging because of their bad experiences with humans.
Despite saying I will never-ever foster a ferret again, as it is too heartbreaking when they leave, I am constantly breaking this promise … After many years, in 2015, I have decided to buy my first ferrets with known pedigree. A year later I became the first officially registered ferret breeder in Slovenia. The most important goal of my breeding is to improve the health and life expectancy of Slovenian ferrets. My aim is to breed healthy, happy, and active ferrets with a polecat-typed appearance.
Currently, I share my home with seven ferrets, two dogs, five cats, and my partner who is also a veterinarian.