My name is Adrienn. I live with my husband in Budapest in a flat with our ferret Manhattan, turtles Roxy and Marvel, and numerous fish in the tank. We always loved pets, both had/have dogs at our parent's house and when we decided to move together it was no question that we would like to have pets as well. Unfortunately, we were both working during our studies at the university so we did not want to have a dog because it would have been very difficult to spend enough time with it. So we started with a small fish tank, now we have an 80l tank with 20+ fish. It was almost 9 years ago. Not long after that, we bought the turtles, but I had one problem with them: they were not fuzzies to cuddle with.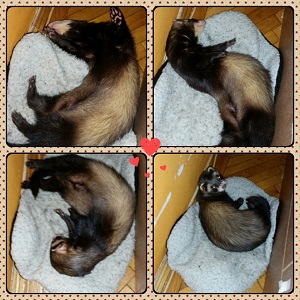 To be honest, I wanted to have a rabbit as I did as a child, but my husband showed me a video on Youtube about ferrets. I must tell you, I instantly fell in love with them. Not long after that, we went to a breeder to gain some knowledge because 8 years ago there was not enough information to find about ferrets in Hungary. Our first time meeting with the furry carpet sharks was amazing although we were both a bit afraid of getting bitten, it was not the case. So 8 years ago we bought our first ferret, Rumli (means "mess" in Hungarian, which I think suits them:D). He was 6-8 weeks old and so small. We had to learn together how to behave ourselves, what to feed him, how to teach him not to bite, where to find a vet (in Hungary, there are only a few vets who treat ferrets), and so on. He was 6, 5 years old when he got a seizure because of cancer. We took him to our vet immediately where they tried to cure him. Unfortunately, they could not save his little life. But if Life takes something it gives something as well: the vet told us that they have a ferret at the clinic, who was abandoned by his owner and showed us Manhattan. There was no question, we took him home. He was already 3 years old and when I held him for the first time he gave me kisses. It was love at the first sight.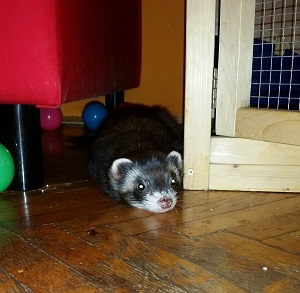 Manhattan is a completely different personality like Rumli. Manny does not like to cuddle but he is always very curious and loves balls which he collects under the couch. A usual day looks like the following: in the morning he gets his raw beef breakfast then it is playtime: Usually, he is roaming around in our flat, playing a mix of hiding & seek and tag. But for sure it always ends up with begging for a treat: fish or some soft sausage-like thing. Sometimes he climbs up to the turtles and says hi, or steals the artificial flower from the tank. Then he passes out under the couch or in the couch (he climbs in the storage part) although he has numerous beds and hammocks in and outside the cage. During the daytime, he checks on me sometimes as I work from home. He tries to beg for some treats. In the evening he gets his supper (raw meat) and we play. Sometimes if I do not pay enough attention he climbs the table and steals stuff sometimes even my cell phone. One must be very careful about the belongings. He likes people and dogs, always checks out our visitors and most importantly their bags. He plays with the dogs at my parents' home. Funny thing is, that he does not like to take walks except he is with the dogs.
Tips for a newbie ferret owner? Well, be patient, this is the most important thing. As a reward, the little clowns will always make you smile no matter how hard your day was. You just have to love them!