Can you tell a thing or two about yourself? (your name, where are you from, how old are you, what do you do for a living…)
– My name is Petra Zsoldos and I am from Hungary but I have moved to England when I was 11 and now I am 18. Right now I am in an Apprenticeship as an Administrator until November and then I will see where I would like to work permanently. I have always been an animal person, I was horse riding since the age of 3 and won a few competitions as well. I had 2 dogs in Hungary, a Beagle mix Jenny and a Poodle named Chocolate. (I know a weird name for a dog). Also had 2 guinea pigs and a ferret when I was very very little, I can barely remember.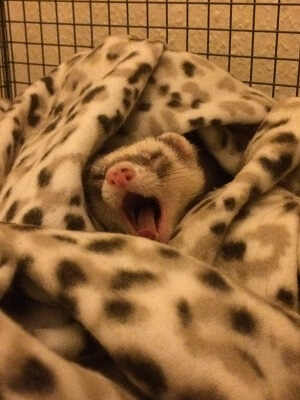 When did you first found out about ferrets? (My first encounter with ferrets was when I saw them in the movie Kindergarten Cop with Arnold Schwarzenegger, that moment I knew I had to have them)
– As I said above when I was very little my dad got us a little sable ferret from a litter not far from where we have lived but she was very aggressive so my parents thought it wasn't a good idea to keep it because of how small I was. So when I turned about 14-15, there onwards I wanted ferrets because we couldn't have dogs so I just wanted ferrets so badly but even then my parents didn't let me. So when we moved away from London, I decided I am definitely getting a ferret. Then I started searching for breeders and started asking around and gathering as much information as I could about ferrets.
When and how did you get your ferrets? You can write your rescue story.
– I am still fairly a new ferret mom because I adopted my ferrets on 31st of March 2016, so it has just been over a year. The way I got my ferret was in college. One of my friends suggested N.E.F.R which is a private rescue center. I went to her and had a look at the ferrets which were up for adoption and ended up with 2 ferrets. My ferrets didn't have a good start in life, they were dumped next to a bin in cold winter, they were underweight, losing fur, and didn't trust people. So when local people found them they were brought to the rescue center. The woman who was very passionate about ferrets for over 30 years, started working with them and seeing what their personality was. They slowly started trusting people again, they had vet treatment and they were getting stronger and just full of life. Then I was the lucky person to have them in my family.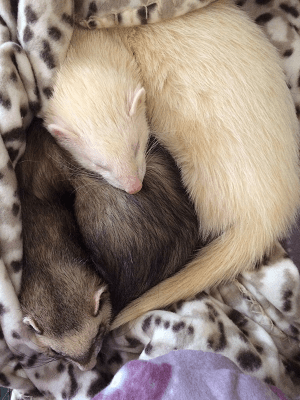 Can you tell us more about your ferrets? (what are their names, age, gender, personality, few words about your ferret)
-I have a sable ferret named Gordon and an albino ferret named Harper. They are just over 3 years old and they are both little boys. My ferrets are completely opposite, Gordon is more laid back and loves food while Harper is more hyper and loves playing all the time, nonstop. You can get Gordon to be hyper too and he's so cute when he does the war dance. They both love a good treat and Gordon knows a few tricks, I mean obviously because he would do anything for food. Harper knows 1 or 2 and the reason for that is, he gets distracted way too easily.
What does your average day look like with your ferrets?
– My day with my ferrets are pretty simple, because everyone works full time I don't let them free roam the house because obviously, I do not want them to hurt or cause injuries to themselves, so when I wake up in the morning I give them fresh water and food, clean the toilet and give them a lot of love. When I get home I let them out until it is pretty much bedtime or when they get very tired and we have amazing times together, playing learning, and of course cuddles and lots of kisses.
How do you feed your ferrets? (are they kibble fed – which kind, raw meat, do you use treats, which kind)
-During the day they have kibbles in their cage and when I let them out I give them cooked chicken which they love, no seasoning, no oil, no nothing, just plain chicken. They do get raw meat like for example when I am chopping the chicken up they do get a few cheeky bites. I use cat stick treats, the women who I adopted them from using the same and they do love it. This is because here in England we don't have a lot or maybe none ferret treats so I just use that as a treat.
What about games, which is your favorite? (I love to run around and play tag with Frida and Yoda. Yoda's favorite toys are a snake on a stick and a Kong, Frida had one orange rubber bone – she wouldn't chew it, just carry it around, but I had to remove it because Yoda would chew it)
– Gordon loves it when I chase him around the house, he does the war dance and runs away and then turns around does a bit of war dance again and then I start tickling his belly.
-Harper loves his long-legged lion which is floppy so he loves it when it's above his head, it makes him go crazy and he starts the war dance too. They would play and run around with each other too which is very cute because it is like a play fight between brothers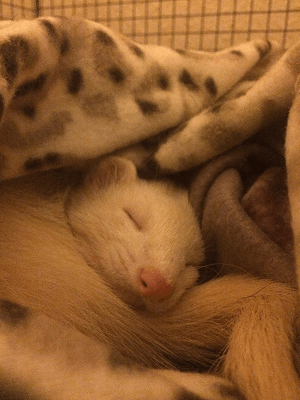 What would you say to someone who wants to get a ferret as a pet? (would you encourage him, maybe some tips or some advice about ferrets)
– I would say definitely get a ferret because they just bring joy and happiness to your life. You cannot go wrong with a ferret and they would be your best play buddy and best cuddling buddy. I would also give tips and advice and I would tell them some of my own experiences with my ferrets. They are clean animals and if you have a full-time job they will fit with your schedule because they sleep a lot so you don't have to worry about giving them hours and hours of exercise which you would give to a dog.
Would you like to share some interesting stories or an adventure you had with your ferret? (I am sure you have many great stories to tell, after all, ferrets are one big adventure)
– I remember when I only had them for a few days or it just turned to a week since I had them and they were still not very used to me so I picked Gordon up and I put him close to my nose and because he didn't know me very well he bit my nose. It would not stop bleeding for about 5 minutes. It was kind of funny, well my parents were laughing. So that was my first greet from Gordon, well it was my mistake, to be honest. Harper loves climbing onto my back and just to have a look around and he would lick my hands a lot and before they come out he always gives me kisses on my cheeks which are probably the cutest thing.
Thank you so much for this opportunity to tell people about my ferrets.
Petra, Gordon, Harper