Are you looking for ferrets for adoption?
What should you know before adopting a ferret?
In this post, I want to talk about giving a second chance to ferrets up for adoption. I will answer questions about what should you know about ferrets before the adoption, where to adopt, how can you find ferrets for adoption near you, and much other valuable information. Thank you for considering adoption as a way to add a ferret to your household.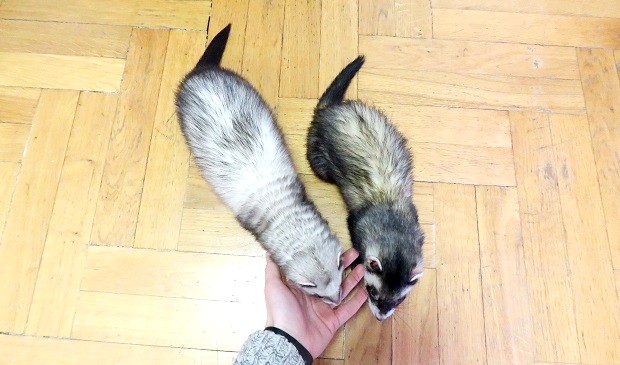 Why Should You Adopt A Ferret?
If you want to adopt a pet ferret, you will give that ferret a second chance in life. It shouldn't matter why some ferret is up for adoption, what matters is that he needs a new home and you are the one that can provide him just that. Giving another chance in experiencing a loving home is something only we humans can provide to ferrets and any other pet. It is something we should consider as our obligation because every animal deserves a good life, a life in a loving family surrounded by care.
Which Ferret Should You Adopt?
You can choose between a male and a female, an adult ferret, and a kit, but that is not the main criteria you should consider. Every ferret, no matter the age and gender, should have an equal chance of experiencing a loving home. It is much more important how you "click" with the animal than how old is the animal. That is why you should consider the ferret's personality as much as his gender or age.
Baby Ferrets For Adoption
There aren't many ferret kits for adoption. Mostly because pet ferrets are usually neutered/spayed so they won't have surprising offsprings as it can happen with cats and dogs. But, that doesn't mean it won't happen. It simply means you can find a young ferret but not a baby ferret – a kit. Kits are a good choice for new ferret owners because you can then do the training yourself and you can get to know your ferret from a young age.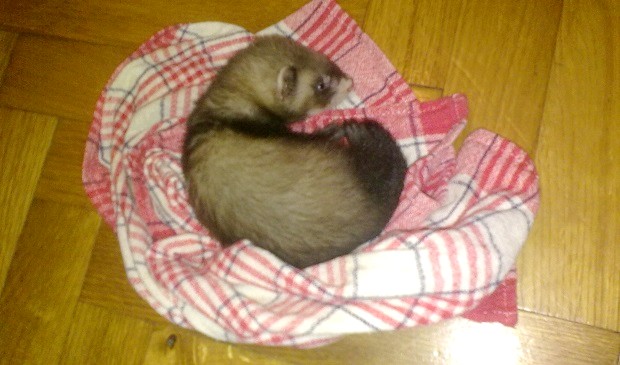 Adult Ferrets For Adoption
The biggest category is adult ferrets. Most ferrets up for adoption are adult ferrets which means that they have a certain view of life. It means that they are probably litter and bite trained and the only thing you need to do is let that ferret get used to you and your home. Now, that is an ideal situation. Unfortunately, some adult ferrets experienced some sort of negligence in their life. That means they aren't trained or socialized, even can show some signs of aggression so you will probably have to invest more time in his socialization. But, every second of your time will be worth it in the future.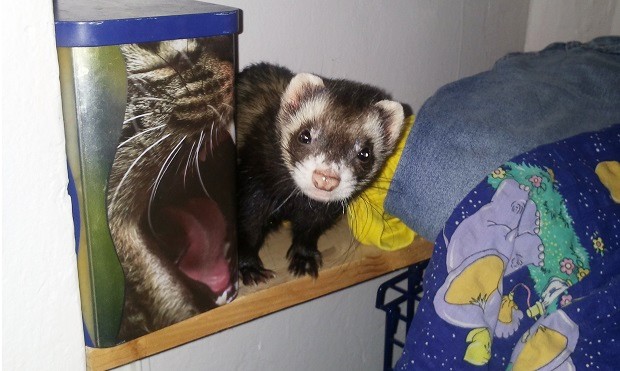 Old Ferrets For Adoption
Just like any other pet, older animals aren't that attractive to adopt to some people. Most of the time it is because an old animal doesn't have much energy to run around. Also, it usually has some sort of health issue, small or big. That is why most older ferrets end up with experienced ferret owners who are familiar with treating illnesses like adrenal or insulinoma. I am mentioning them because they are the most common illnesses that affect ferrets after a certain age.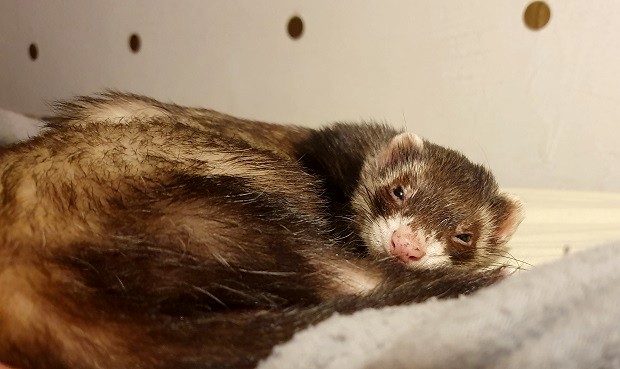 How To Put Ferrets Up For Adoption?
First, I don't want to blame any person who is forced to leave his ferret for adoption (or any other pet). There are numerous reasons for that and that person is probably already devastated by the decision. It can be an unexpected turn in life, moving to a country where they aren't legal (yes, there are countries where ferrets aren't legal pets), health problems, financial problems, etc. The reason shouldn't be important and people shouldn't judge former pet owners when they have to put their pets for adoption.
Find Other Ferret People
It is important to help those people who need to rehome their pets, to find a good place for them. The best and the safest place for a ferret is a ferret rescue, ferret shelter, or any ferret-related group on social media that allows adoption posts. The first thing one person has to do is to find the ferret adoption center near them. It is a good idea to look for it online or in local ferret groups on Facebook or other social media. If that person knows people with ferrets, she/he can ask them for recommendations too.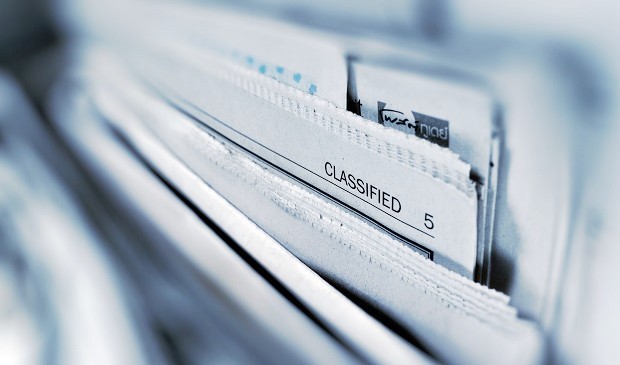 Avoid Classifieds
The last thing I would recommend is to post it on Craiglist and other classifieds. Unfortunately, those places are made for low-quality posts about neglected animals who are in need of a good owner and most of those animals are for sale, not up for adoption. Kudos to those who have pure intentions, there are a few well-mannered people there, but they are very rare. Classifieds are made for people who want to earn money quickly and without too much effort so if you want to give your ferret to good hands, I would recommend the options I mentioned above.
How Can You Adopt A Ferret?
There are a few options if you are on the other end of this story – if you want to adopt a ferret. The principle is pretty much the same as if you have to give your ferret for adoption. The first thing you need to do is to check out your neighborhood, your city, your county, and lastly, the entire state you live in.
Check Local Ferret Groups
If you are an experienced ferret owner, then you are probably familiar with local ferret groups. Most of them are active on Facebook or other social media platforms. You can ask in those groups if there are ferrets up for adoption by some group members or even local ferret shelters and rescue groups. Besides finding ferrets for adoptions, those groups are also a great source of ferret information, a list of good veterinarians for ferrets, and sometimes even ferret sitters.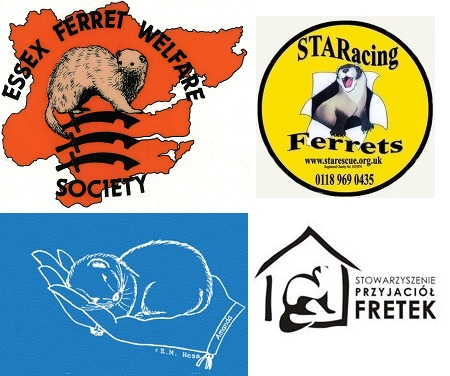 Contact Ferret Shelters
The best place to look for a ferret is ferret adoption centers, shelters, and rescues. Unfortunately, (or fortunately), there aren't many ferret shelters around us. Some cities have many, others don't have any so it is up to you to investigate if there is a ferret shelter around you or not. If there isn't you can always try to contact the animal shelter if they have any ferrets. If their answer is no, you can ask them for advice or some contact.
I have made a list of ferret shelters all around the world. If you are interested, you can check out the ferret shelter and rescue list right here. The list isn't completed so if you want to contribute with shelter information, please contact me via the contact form.
Ferret Adoption Procedure
Most ferret shelters will have a word with you before they let you adopt the ferret. I think that is great because with that interview they can see how serious you are about adoption. Adopting a ferret means giving him a new life so you can't return the ferret after a couple of days. So, most ferret adoption procedures look something like this:
*Remember, this procedure is not a rule. Every ferret shelter has its own procedure, I am simply giving you an example.
First Get-To-Know-You Interview
The first interview is about you. You can say some information about you, your lifestyle, where you live, what are your plans for the future, etc. With gathered knowledge, people from the shelter can help you decide if adoption is a good choice for you and if they have a ferret that will fit into your lifestyle. Some ferret shelters will require you to show them your home. Now, you don't have to think of it as an inspection, more like you are inviting guests to your home. That is important so they can decide if your living area is safe for a ferret or if you have to make some adjustments. Most of those adjustments are about ferret-proofing. If you don't know what that is, read my ferret-proofing post.
Second Interview With Ferret
The second interview will happen in the ferret shelter. There you will meet a few ferrets, both genders and ages and you will see which ferret suits you best. You will have a chance to pick a ferret based on his personality and energy level. Listen to advice people who work in shelters share with you. They only want what is best for every ferret in their shelter so they will do their best to pick the best human for the ferret.
Donate Adoption Fee
Some ferret shelters require a donation. I think that is a good idea because a donation is another proof you can do to show how serious you are. Also, you are helping that ferret shelter to get groceries and other ferret supplies needed to stay alive and help other ferrets in their ownership. This is a great way to show support and help because most shelters need our help.
Before You Adopt A Ferret
Adopting a ferret is great, but before you decide to adopt a ferret, you need to think about it long and hard. Just like every other pet, ferrets have needs and you are responsible the moment he steps into your home. So, think about the ferret, about you, your family, your roommates, and your living style. Make sure this is the right decision for you and eventually for the ferret. So, what can you do before making that step:
Do Homework About Ferrets
Ferrets are special animals and terms like ferret-proofing, litter training, bite training, salmon paste, good ferret nutrition, etc. will be a part of your life once you get a ferret. Make sure you know how to take care of a ferret, what are do/don't when it comes to living with a ferret, what ferret supplies do you need, etc. A good starting point is my post about ferret accessories and supplies.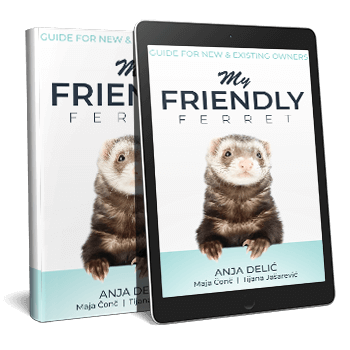 Meet A Ferret In Person
If you are completely new to the ferret world, there is a chance you haven't seen a ferret in person, let alone held one. It is a good idea to visit a ferret shelter or visit some friend who has one so you can see a ferret up close. That way you can see how big they are, what their teeth look like, do ferrets smell, and many other things you can only experience in person.
Ask For Vet Recommendation
Ferrets are sensible animals and that means you have to meet a good veterinarian. If you don't know which one is good, again, ask for help. A great source of information regarding ferrets is ferret shelters and groups.
Conclusion
It is always a great idea to adopt a ferret or any other pet. You will have a grateful pet in your home, someone to spoil and love and you will keep ferret shelters empty. There are many ferrets for adoption all over the world and I am sure there is one that waits only for you. So, visit your local ferret shelter and you might find your perfect pet there! Do you have any experience with ferret adoptions? Share your thoughts with us and don't forget to subscribe to our newsletter.