My girlfriend and I rescued 2 ferret girls in the summer of 2010, Bailey (chocolate color) and Kahlua (sable). They were about 1.5 years old, but still so full of energy! I had wanted ferrets my whole life, but I really didn't know much about them. The lady from the rescue gave us information and told us a good cage and kibble and we were off!
Looking back, we probably didn't play with the girls as much as we should have. We had 3 husky dogs and couldn't trust to let the ferrets free roam. We would play with them for a couple of hours each evening and more on weekends and we loved every second of it. We bought them every toy we could think of and I always looked for more. Their favorites were tunnels and after some time I learned they liked old bags and boxes too. Kahlua loved squeaky toys. She would stop what she was doing to look for the squeak and then hide them. Bailey didn't care much for hiding toys…She just wanted to PLAY! We invented games like holding both ends of a bed sheet slightly above the ground and bouncing the girls slightly. Oh, how they would dance!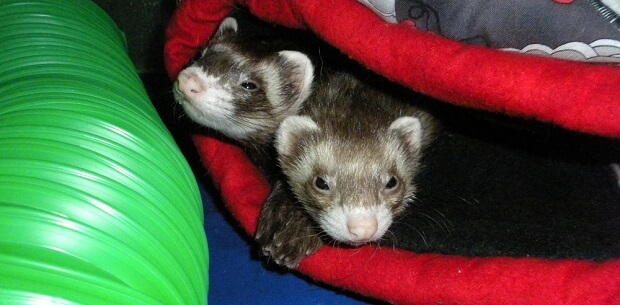 Around 2.5 years, I noticed Bailey was losing a lot of hair on her back and belly, and tail. Our local dog vet said they had an exotics specialist, but he diagnosed it as a seasonal allergy & told us to wait it out. The lady from the rescue knew it was adrenal immediately and took the girls to the vet where she worked for an implant. After their checkup and Bailey's 2nd implant a year later, we noticed Kahlua wasn't acting like herself. We found our own ferret vet about an hour from home. Kahlua was diagnosed with lymphoma. She had ups and downs over the next few months and our vet performed what seemed like miracles to give us more time together, but she lost her battle in June 2013, less than 3 years after they came to live with us. She was only 4.5 years old.
Bailey was VERY lonely after losing her friend. She threw food all over her cage and was not herself. My girlfriend had trouble getting over the loss and pulled away from Bailey, spending less time with her and giving me a chance to bond with Bailey. Around this time l noticed Bailey was going blind, but she still got around REALLY well! She interacted with the 2 husky dogs we still had and played in her playpen. I noticed that November that she was coughing a bit so we started treating her for heart failure. It didn't slow her down one bit and I thought she would like a friend so I contacted the rescue and that December we welcomed Mitchell, (another sable) into our home. We thought he was around 3-4 yrs when I got him. Bailey literally followed him around for the 1st week at every playtime dooking the whole time! I hadn't heard her dook in MONTHS! I was so happy to know she approved of her new friend. I introduced them slowly and after about a week they were sleeping and snuggling together. She was obviously so happy!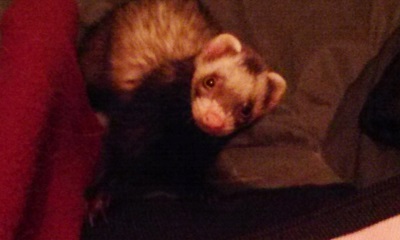 Mitchell was never a crazy boy, which was good since Bailey was 5 and going blind and couldn't catch up if he ran away while playing. I still took them out to play and I was amazed that Mitchell was usually the one on top of their mini puddle, even though he was about 1.5 times the size of Bailey! Bailey learned to stash toys while Mitch was with us. He would hide them under the bed and she would take them to a box I cut holes in and they'd go back and forth! It was so entertaining! The following November we started treating Mitch for insulinoma and he was responding to treatments well, but on New Year's Eve, I noticed his head was flopping back and forth and his balance was off. We got him to the vet for antibiotics, hoping it was an inner ear infection. He was present mentally, but physically he would potty on himself and fall in the cage. I didn't want him to get really hurt or hurt Bailey. After a week, he showed no improvement and I had to make the choice in January 2015 to let him cross the bridge. Again, Bailey wasn't herself. She didn't seem as upset as when we lost Kahlua, but she was obviously hurting.
At this point, she was over 6 and I believe she was totally blind, so I made the choice not to get another ferret. I was her cuddle mate as much as she would let me. For a few months, Bailey would run her toys from her playpen in the living room all the way down the hallway using the wall as a guide and she'd take them across my stepdaughter's room to her hiding box. She was still extremely active for about a year after we lost Mitch. Since she was now alone ferret, I took her out every morning while I got ready for work and whenever I could in the evenings and on weekends. Our huskies were older and also slowing down, so I could trust them around her with close supervision. Then she started to slow down and in February 2016 she was also diagnosed with Insulinoma. She started to slow down very obviously. My poor little girl was finally showing signs of her age at 7 years. I still took her out every morning and every chance I got. She turned into a cuddler and she would fall asleep on me most evenings. If I put her down, she would toss and turn until I picked her up and we settled on the couch. She still did well on the pred until the summer, maybe July. She stopped eating on her own and got a nasty rash on her belly and privates. She also couldn't make it to the litter anymore so she lived in her playpen with pee pads and a couple of pieces of bedding. We fed her every 4 hours and washed her as needed with warm water. Bailey had ALWAYS hated water, but she learned to tolerate it if we supported her body on our arm. It was rough, but I wanted to give her the best quality of life I could! I'm glad I had my girlfriend to help me at this point!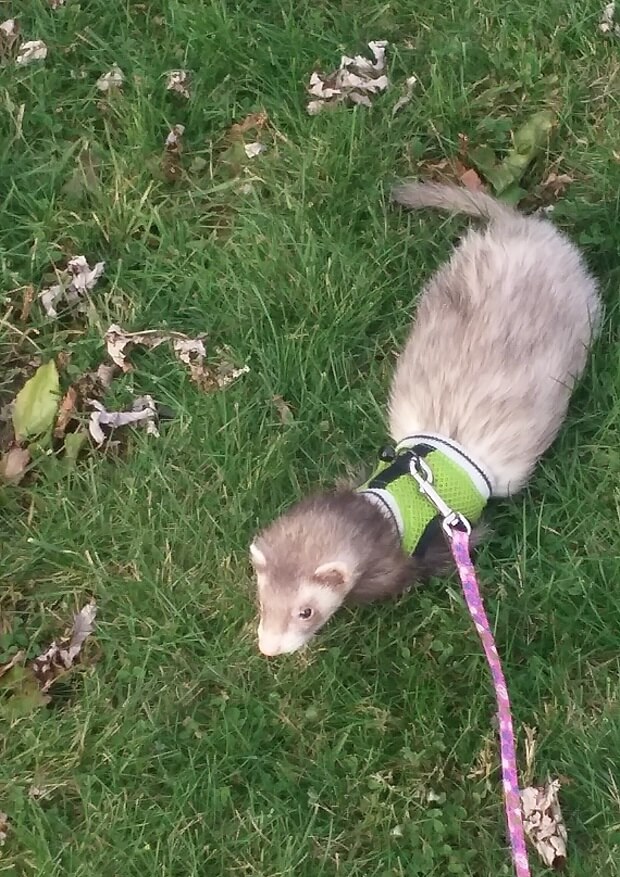 This was the time that I joined many Facebook ferret groups and started learning about raw. I introduced a raw soup to Bailey and she LOVED it right away! I was hoping it could help her feel a little better, but she was too far gone. I ordered her one of Euel's flyers, but she only got to use it a few times before she was too weak. We tried every antibiotic our vet knew and gave Bailey probiotics to help her belly and poops so she wouldn't be so red and we even took her to the vet the rescue uses for a second opinion. They gave us a new antibiotic to try but she basically said we might have to accept the inevitable. We gave it another week or 2, but Bailey was making whimpering noises when we would put her down. It seemed like she was in pain. We finally made the call on September 26, 2016, to help her earn her wings. It was such a struggle and she had pulled through SO many things before so we were really cheering for her, but she had become so weak. She was just over a month shy of her 8th birthday. I try to remember the crazy fun Bailey I once knew. I wish I had more videos of her and Kahlua when they were young and playful. I cherished every last cuddle I got from my Bailey Boops and I miss her every single day. My girlfriend and I have talked about having ferrets again one day, but for now, our hearts feel broken and our house is busy with another husky puppy, so we'll have to wait. I put away all of their bedding and toys so we can pull them out one day in the future.
Kahlua, Mitchell, and Bailey: gone, but never forgotten!!!